Media Jems is a PR agency based in Norwich and in this case study we will see how Credofy uplifted Media Jems Digital presence and build a storytelling design to improve their conversion rate and mobile visits
MediaJems Old design was pretty dated, there was no story telling in the design and they were not connecting with their target audience. The old design was all about them & they were not addressing any pain points of their target audience. Hence they had a pretty bad conversion rate. 
Discovery, Research &
Stratergy
To identify & address the pain points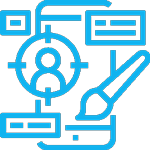 UI /UX
Design
Sketching with storytelling followed by PSD
WordPress Backend
Converted the PSD to WordPress
On Page
SEO
Optimised the code for search engine
We got into client call to understand their pain points and their goals. 
We understood their needs and helped them build a story. 
In this design you will see that we have first put across the problems their target audience are facing to build the connection. 
Followed by their services to solve those problems. 
And then have introduced MediaJems along with Why choose us and case studies. 
We could able to do this only after doing a thorough discovery session, market and competitor research followed by the strategy. 
New design is mobile friendly and conversion ready which has helped MediaJems secure more leads. 
We are really excited and raving to help you come up with a functional, aesthetically pleasing, easily navigated, user-friendly and fully responsive website.
Why wait any longer?