Why Website Research is important?
Have you ever gone out on a vacation with your wife and kids without booking a hotel room during a peak season.
Or given your school or college examination without knowing the syllabus.
Or went to a client meeting without any preparation.
What kind of results did you get in these cases?
Case 1: Your wife might have screwed you.
Case 2: Your parents might have screwed you
Case 3: You didn't close that deal.
If you have a wife, you know that the Case 1 is more horrible than second or third.
Same applies in web design, it is crucial that one must do a proper planning, preparation & research into your niche when deciding to build a website.
Many do not do proper research, even when they have a great product or service and end up not getting any business at all, a total disaster.
Here is a common scenario that we get to hear a lot from our clients.
"My product or service is absolutely wonderful, and using some templates that I found online, I created a magnificent website which is bringing in some organic traffic. However, I am not making any sales, and it is not what I expected. What did I do wrong?"
The answer is very simple in such cases; not enough Website Research and Strategy was done to build a strategic conversion ready website. 
Researching a niche and what is required is crucial to the success of any website, no matter how revolutionary and useful the product or service is.
In our website discovery blog, we explicitly mentioned that the next crucial stage is the research phase.
In this article, we shall see just how a web consultant can diagnose your business problems, customer pain points, research on your competition, and the results will lead to the formation of a strategy that will grow your business by leaps and bound. 
This will be the action plan.
Here are some issues that a web consultant needs to do for an effective website research
Creation of user personas and flow – User personas determine the buying trends and pain points of your target audience as a service or product provider. User flows, also known as user journey refers to the way users progress through the experience on a site, search patterns etc.
Potential customer interviews – They need to talk to some of the customers so you can know what they really need and how it should be presented.
The usefulness of the service or product – They need to determine whether your products or services address the problems that the target audience is looking to solve.
Presentation – They need to think about how you are getting your message across to the potential buyer. Will you tell it in an interesting manner? What kind of story-telling style will bring in more customers quickly and convert them into buying?
Ignore the competition at your own peril – As a seller, it is crucial that you research into what your competitors are doing. They need to make sure that you are giving the buyers something that adds more value than hat put across by your competitors
Keyword research – This is a no-brainer; without research into keywords then your customers will have no way of getting to know about your product or services on the search engines.
Niche research – This is where we look at the current trends and what people are looking for. This is why the fashion industry and other industries keep evolving. They have to go with the trend or come up with a better one through careful research.
Point of view – This is one mistake that most people make when bringing in a new product or service. They understand it and imagine that potential customers will too. They need to create and design a website using the point of view of the final customer.
How is your story told


"People do not buy products; they buy stories".

This is a popular saying in web design and content creation. You need to give a story that lets your final user know why they need your product or service. The purpose that it will serve in solving their problem. Here is where some market research and provision of data in an interesting manner will come in.
Logical connection equals higher profits – When you connect emotionally with customers, based on effective storytelling, you can price 10X above your competition, and you will still the target audience users to buy.
To illustrate this further researcher's Bob Walker and Joshua Glenn, in an effort to prove that storytelling is important, bought items at a garage sale for as little as $1.25. 
They put these items for sale on eBay and used some of the best writers in the industry to come up with compelling stories for each product they listed. 
The same products ended up fetching $8,000 on eBay. 
Of course, they sent the money to contributors(writers) and non-profit organizations. 
But this goes to show how effective storytelling, based on proper research can boost the value of a product or service.
Website Research is important when it comes to designing a website that will drastically improve the appeal that your potential clients are looking for. 
There has to be a balance between the logic of what the product or services addresses and the emotion the storytelling evokes from the said potential buyer.
Web consultants understand how important this process is to the success of your website. They will do the full research into all aspects of the niche that you are getting into as a seller.
Most times clients will come to and say that they just want a site that looks great to the eyes; it is easy to get a template and do that on your own.
If you want to get a website that will convert, then they have to do proper research to establish and address the points illustrated in the section above.
As professionals, they do not want to build a website that will just be lost to the flood which is the ether of the internet.
They want your website to ride the waves and become an authority in your niche.
Every niche has its own intricacies and they have to start by doing deep into your product and service then determine the points in the section above and proceed with proper research for your business.
It is important that they do the research in a manner that will bring returns to the site, generate new leads in a sustainable manner and actually convert them into paying customers.
The user experience really matters
They have established that you have a great product or service, but they have to guide your customers through the journey map or flow to make the experience unforgettable.
Digital customers are like elephants; they have a long memory, and if their experience is not good, then they will never forget and will not come back.
User experience is not just about creating a website that will impress them visually; many people have used the best design tips to create wonderful websites that do not convert. 
You need a user experience that will address the needs of the customers as they are going through the website.
It needs to entertain, be intuitive, inform, and flow well.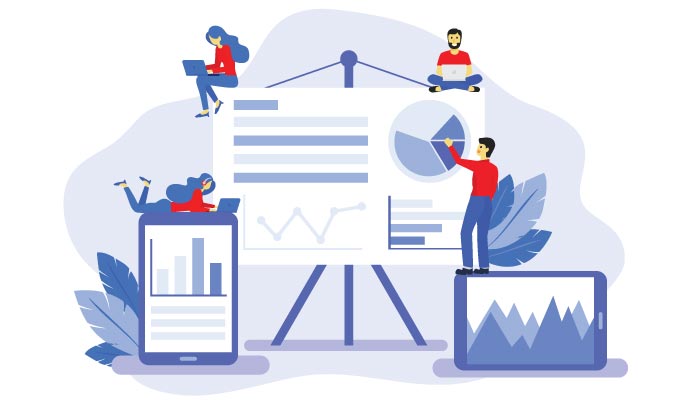 In order to achieve this end, a web consultant needs to research into what the user will be looking for on the site. 
Just having a flamboyant and smart website is not enough to convert users into buyers. 
They have to research into what the visitors really look for on a website.
The first step will be getting a set of questions from the users' point of view, and then address them in the research. 
These questions will help us come up with user personas.
From experience, we know that this is not a futile endeavor, but one that will make the site soar.
In website discovery, we find out the goals of the business and what we estimate to be the needs and pain points of the user; in website research, we dig further in order to intimately understand these needs, wants and pain points.
It is known that user experience is a subset of user needs and the goals of a website
A good example to illustrate user experience borrows from design trends of the past.
There was a time that you could not see a link until the mouse hovered above it. 
This was when images were popular for linking pages. 
Today, your customers will quickly leave the page if all they see are pictures, with no links or content and you expect them to hunt for the links hidden in the pictures; Goodbye! Is all you will get..
Related Article: 18 Steps for a comprehensive Website Discovery
1. Develop user question to build user personas
Inbound marketing highly depends on establishing user personas and then designing websites for them. 
These are the people you will market to using a website and if you get it wrong, then no matter how beautiful the site is, you will get low ROI.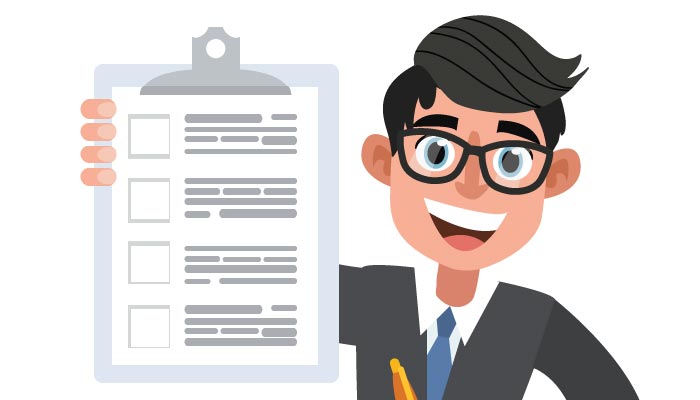 User personas let you zero-in on what your users really want from your website design, products and services.
This is where we identify the challenges that users go through when browsing a site, look for points of friction, gaps in understanding and then come up with a web strategy, based on the answers we get, to design a website that provides the exact solution that they want.
We first create generic questions and then fine-tune them to fit the clients' business. Below is a list of these questions, which we would do for a B2B client.
Note that in B2B research, we talk to employees too; they are also part of the whole and have an input that the management may not see.
B2B Personas
Role
In the past, it was traditional that the final authority in making B2B purchase decisions fell on the shoulders of senior executives, but today this is no longer the case.
Employees are playing a great role in influencing the purchasing decisions that will be made by senior management.
The employees are the bread-and-butter of the company and they are the ones who suggest what will improve the effectiveness, efficiency, and production of the company. 
Due to this, it is crucial that B2B research looks into what the employees think about any new or redesigned website for the company.
Some companies, such as Caterpillar, now allow non-management engineers to come in and simply go ahead and purchase something that they require, without going through the traditional, inefficient procurement process.
Asking questions to employees in B2B is always not necessary.
In our website discovery blog, we mentioned John, who owns a construction company and is looking to get more investors and enhance the business. 
Looking at his case, he has to know the roles that the decision maker in the potential investors' company plays. 
That way he will be able to come up with a strategy that will appeal to that person.
He also has to know what the company does, so it will fit into what he expects. 
He has to get a company that will invest in construction specifically.
He has to research on the goals of the company, so they will complement each other. 
If the company is not looking at the commercial real estate, and he wants to build commercial properties, then the goals will conflict.
He has to find out about the challenges that the company has, so they do not become a burden to the deal.
He also has to know the personal background of the investor. When doing business on a large scale, you need to be intimate with the personal life of your investors.
The only way he can get answers to these issues is to go through the questions below and do real research into the potential investor. 
This knowledge will help him approach and convince the investor to join him and boost the construction business. A win-win situation, because of taking time to do proper research.
These are some of the generic questions that we prepare for B2C customers. They are quite different from those asked to a B2B customer:
B2C Personas
We undertake several campaigns in order to get B2C research answers by visiting social media sites and other social forums to ask people certain questions. 
This gives us an insight into what makes them tick and how best to leverage the web design to bring in such customers.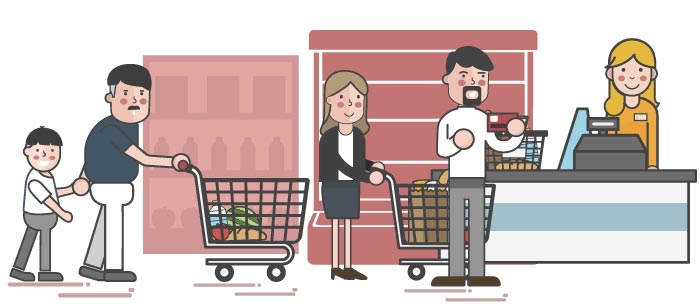 We now take a look at a B2C business and what the personas would look like
In website discovery, we mentioned Mark who wants to run a school. 
In order to connect with the parents of the children, he has to consider the questions above in a critical manner.
The principal of the school has to know what keywords the parents use when searching for a school to take the children. 
Will they say Vacation School? Practical School? Holiday classes? 
All these must be catered for in the content and proper research is important when getting keywords.
When searching for such a school, what problem is the parent trying to solve? 
Keep the kids busy, kids need to catch up where they have failed? 
Socializing with other children? 
Having a different approach to learning? 
All these must be addressed in research.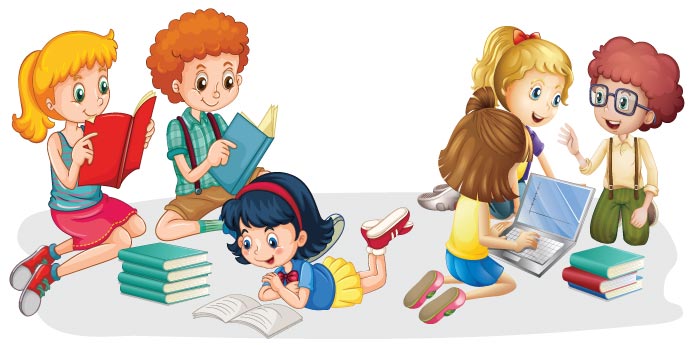 Knowing the age of the parents, where they live, the income and hobbies will direct how the website will be designed to cater for all these.
Knowing where such parents go for social media will help integrate to the channel where most parents visit.
Knowing the social media that parents normally use and their habits will also inform on which social media channels to use. 
In this case we would use all possible social media channels – Youtube, Facebook, Twitter, LinkedIn and Instagram. 
It will help in getting parents who are geared towards a common end for their children.
For example, when it comes to B2C markets, and you are selling products in the Asia-Pacific region, the buying trends there show that you need a website that can accommodate mobile payments.
The "Global Mobile Payments Methods: Full Year 2017" report showed that there is a sharp spike in global mobile payments, but Asia leads the pack.
Smartphones have allowed consumers worldwide to pay for goods and services in-store and also online, and it is very safe. China is leading in this kind of payments.
It is quite shocking that mobile money payments are higher in the emerging markets and very low in mature economies in North America and Europe.
Now that we have interviewed your users, it is time to go to the next step and create a report that will now be researched further. 
We now clearly understand the underlying challenges, behaviors, demographics, and motivations and are ready to write a report to guide us further.
Related Article: User Persona:  A Ultimate Guide to define your right target audience
We have finished interviewing users and one of the issues was the type of keywords they would use for this particular product or service. 
We now go deep into keyword research, which entails looking into the kind of competition each keyword has, and then look for a relative keyword to substitute those which are used by many people.
This now gives us a set of keywords that will go into the content and design of the website.
Now we got the questions and answers from user personas, it is time to create some keywords.
You are probably wondering just where you will start with keyword research.
Let us go back to the two clients that we introduced in our website discovery blog  – The John the contractor and Mark the school owner.
Let us examine how they would go about researching the respective keywords for the personas created.
John, The contractor
Here is a target audience of John
A mid-size investor looking for opportunities to enter into the commercial real estate industry
A venture capitalist who has a wide portfolio of investments including real estate holdings.
The keywords that these two will use to find the contractor are very different.
Now you might think that an Angel Investor may search for "Investments in Commercial real estate" but same would an end user too would search for investment in commercial property where he is looking to buy a single unit. 
So we have to exclude that keyword and have to think not just from an investment point of view.
Look at the search results when we search for "Investments in Commercial real estate"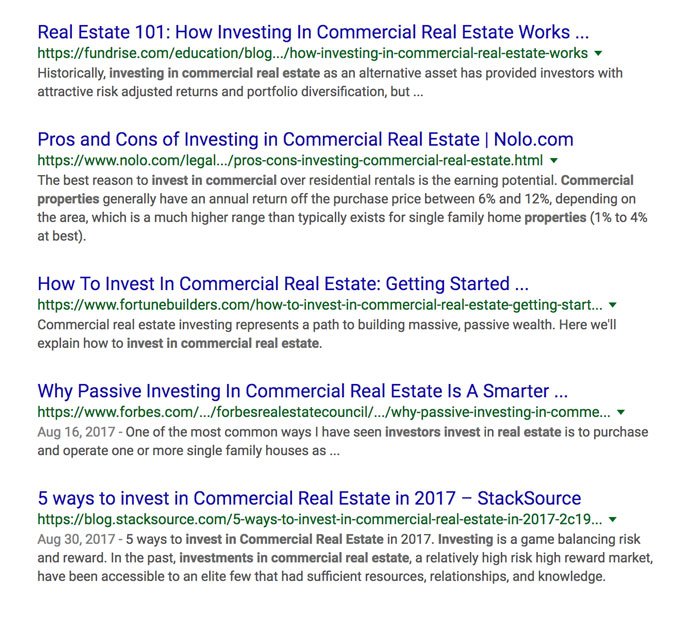 You will see informative blogs teaching how to do the investement but these are not important from the contractor point of view, either he should write the blog on how to invest guide and do guest posting so a potential investor read his blog post and contact him.
We will cover more of that in our content strategy blog post. But let's stick to keywords research here
We can target some more direct keywords like "commerical construction compaines" And if we search for this keyword in google analytics to get more keywords ideas
From here we can take the relative keywords like :
commercial building contractors
commercial construction contractor
Same we do for venture capitalist as he may search using "best real estate investment opportunities"
Then we take a step further to see where is he located and add that location to the keyword to make it low competition and localised keyword.
John, The school principle
The two target audience of Mark are as follows
Stay-at-home soccer mum and blogger, who is too consumed with household tasks, and taking care of the kids, to have enough time to blog effectively and earn some goods money.
A busy corporate mum who spends so much time worrying about the child at home with the nanny that she becomes ineffective at work forcing her to work long hours.
The soccer mum might search for the school using "playhouse school"
The corporate mum might look using "full-service school for young children"
These keywords are not exhaustive and you need to use keyword tools in order to get relevant keywords for these personas as well.
Whatever keyword you are using, you need to do keyword research and analyze it, to get the right keywords.
And since all parents look for a play school near their residence, do not forget to add location to the keyword to make it low competitive and localised. 
3. Competitive research and analysis
When doing discovery the web owner gives a list of competitors and we know how we can find them. 
We do a competitor research and analysis based on the keyword research that we have done above. 
By putting the keyword in any search engine, we look at the top 10 results that come up. 
We then look into their sites and see exactly what they are doing.
How is their customer care department and how fast do they answer queries?
In order to perform competitive analysis, we go through technical information about your competitors to better understand what they are doing.
We get such information from sources such as Annual Reports, Product Brochures, Company Profiles, Published Articles, Press Releases, Presentations, Social Media Channels, Print Media, and so much more.
We ensure that we know every intimate detail of your competitors so we can get to be better than them when we design your website.
These are just some of the generic questions that we look into when we start website research.
As you will see later, there are different levels of research, which are informed by the answer we get from these generic questions. 
If an answer raises another question, then we go deeper until we get the final answer.
As with any research, we then create a report that will be used to steer the deeper research into the issues that have arisen from the generic questions. 
Here you create recommendations, learning lessons and takeaways. A careful perusal of the report will help point out areas that need further attention.
We have credible information and it is time to now test the concept.
4. Test the product concept
When offering a product or service for the first time, it would not be prudent to simply get into production before you have tested the concept.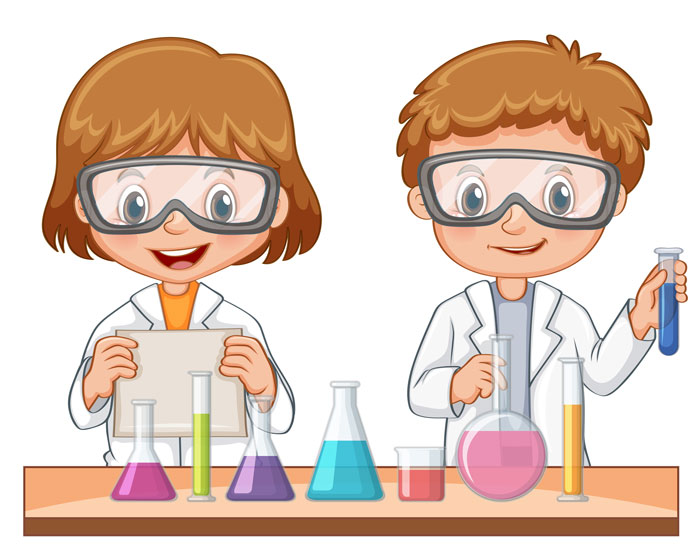 Create a landing page, or a series of landing pages with different options, a process known as A/B testing.
Run a social media campaign and let the world know about your product or service. Try to get people to subscribe or book early at a discount, and see how many people will sign up or book.
Observe the trends, comments, and reactions of people on social media.
When talking about trends, you should consider the following example
Today, the whole world is about conservation and that is why electric cars have become so popular; and this is going to be so for a number of decades.
If you have a new electric engine that will perform better than existing ones, then the trend is right for you, if not then you probably need a new product or service to work on; unless you find out how to create a fusion energy engine, which will never run out of juice.
5. How much research is enough?
Now it is time to look at the levels that we go into when doing all the research required before a website can be created for your website.
This is an issue that brings a lot of connotations. 
Research can take anywhere from 15 minutes to days. 
It all depends on the website and client needs. 
If you are just creating a simple website via which you do not want to produce leads, then it can take minutes, but if you are creating an online shop or a conversion ready website to get orders and leads, then it can take days.
You have just got a client brief by email, phone, questionnaire, etc. It seems like a quick job, so you really just need to get going fast.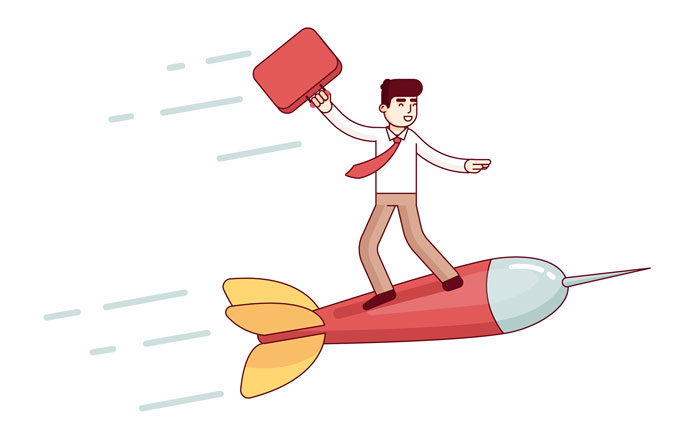 Check the competition – see what other people in the same niche are doing. See how you can do a better job than they are. 
You will see similarities and differences, patterns and a great overview of the industry. You will now see what you "must have" to put your client ahead of the competition.
So we briefly look at the keywords that a competitor is using and also where he is getting his backlinks from. How are they helping them get leads?
Now, look at what ways you can improve your product or service so you can beat what they are offering to their users.
Using facts and data, how can you position yourself as a better, knowledgeable and more experienced than the competitor.
This light and quick research will give you an overview of the issues that need to be addressed in the niche.
After the quick research, we write a report and send it to you. Granted, we got a lot of information from the discovery session, but we did not go deeper and find out much about the niche that you are entering. But now we have a better understanding of your competition.
We now have enough information that will help us set out the website strategy to undertake when designing your website.
Without proper research, then you will never get a sound strategy for your business, and that is why we take research very seriously.
Sometimes this quick research is sufficient, but at other times we need to go deeper into issues that may arise from the first step.
Sometimes you may require a redesign of your website. You have looked at it and it is not working as it should. Perhaps, you are losing customers to the competition for some reason or other.
This is where a website consultant plays a very important role in doing a deeper research into the issues surrounding the declining performance.
We go out into the community and talk to all of them, potential and existing clients, vendors, employees and other interested parties.
Sometimes all it takes is to change the flow or journey map and get them all back.
A deep research can save you a lot of money because it is not necessary now to completely overhaul the website.
All that is required is a better user experience by changing a few things.
Basically, this is a stage where we really have to delve deeper into the business.
This is the point where we think and see if you really do need to overhaul the site or simply redesign it. 
We do a redesign from the view of your target audience and not from your view; this is very important and that is why this research is crucial.
If we need to redesign, then we can now think of issues such as new branding, marketing strategy, design audit, mobile support and other online business issues that will determine the design of the site.
This deeper research is not limited to just the redesign of the website if you are a B2C company and looking to launch a new product all together where you have no competition. 
You are the first one to launch this product.
You must conduct user interviews by going public to see if they really need it or not. You need to design what your users' need and their wants.
Want is something, which is good to have. Need is a must have, without which people cannot live.
You must understand what the needs of the people are in order to address them satisfactorily. Uber understood peoples' needs by offering them quick taxis and then understood their wants as well by giving them add-on refreshments on their rides.
Similarly, you cannot understand those unless we do a deeper research.
Now, we got a lot of information during discovery about the technical issues. However, during research, we find that some of them will not serve the intended purpose.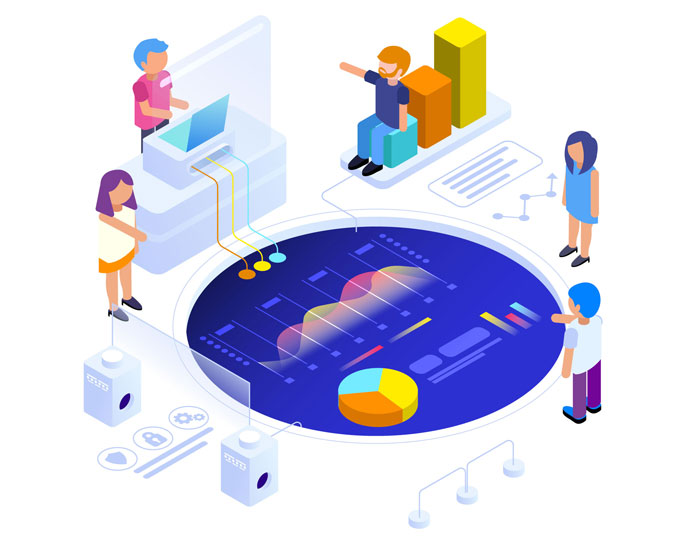 We may design a website that has a lot of functionality that users will hardly use and we need to look into this.
Research is about knowing the personas and this scope that the website must envelop.
For example, you may have told us that you intend to create a forum for interaction with your clients, but during research, we find that they spend more time on social media than any forum. 
We shall then know that social media serves your business better and we create integrations allowing you to interact with your customers on these channels.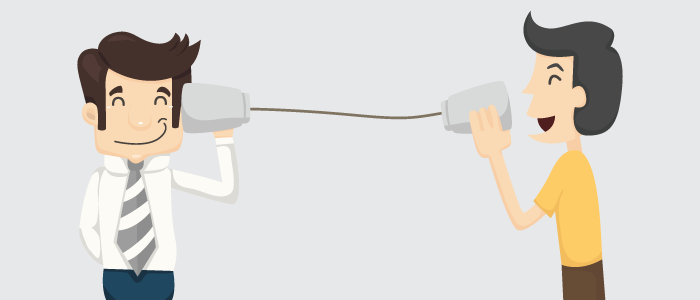 Good research goes hand-in-hand with communication. 
We may be geographically apart but we need to talk with you, other business people, your customers and many others. 
We should be given clear access to talk to anyone with an input to the business, including business partners, employees, vendors, suppliers and other people who interact with the business.
Research will save time, effort and money. Most web developers do not look into this seriously, but it is an important part of creating a website that will bring in conversions and not just traffic.
Let's recap what we discussed.
We must do user interviews to understand their needs and wants. You need to know whom you are targeting in your research.
For B2B you should interview employees. In B2C you must interview consumers.
Based on their replies and what search terms they might use to search your product on the Internet we further do keyword research to find more relevant keywords.
Once you have the keywords, it's time to look at the top 3 players who are ranking on page 1 for those keywords, what are they doing, how are they getting traffic, from where are they getting backlinks, what is their marketing and content strategy? What is their USP?
You must test your concept well before launching it.
We talked about the difference between quick research on the web and deeper research by going out and talking to users directly.
Then you should filter out the technical functionality and implement those which are a "must have".
We must take this process of research very seriously and it is an intrinsic part of web design or development. 
This is the only way that we have managed to create hundreds of websites that have always served the needs of our clients and their users.
If you have any questions do not forget to write the same in the comments box below. We will see you in the next blog where we discuss how to build a website strategy. 
See you there.