The app analytics provider Flurry, sometimes back released a data declaring the growing use of the apps on smart phones and slow death of the mobile browsers. According to the data released, the company states that users are spending way too much time on mobile devices, approximately 2 hours and 42 minutes per day, as compared to 2 hours, 38 minutes the previous year. The mobile app usage accounts for 5 minutes less than the total time spent that is 2 hours 19 minutes. On the other hand the mobile browser usage has declined from 20% to only 14%.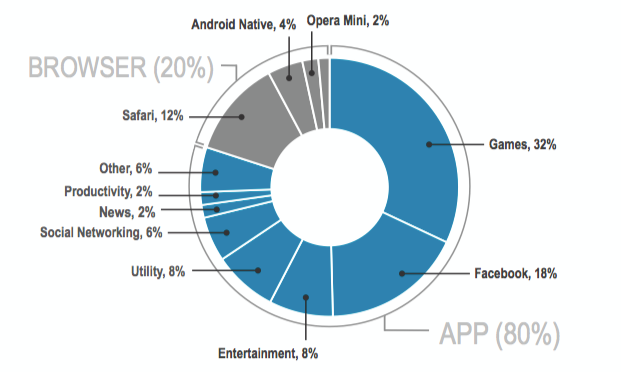 This clearly indicates that the users today are more inclined towards using the apps and not the browser on their devices. Flurry gather's its data from a huge network of 450,000 mobile applications installed worldwide which testifies that apps continue to dominate the mobile browser.
Another strange revelation is that how a single company's single application keeps the user engaged maximum time out of the total time spent on the device for example American's spend 18% of all the time spend on their devices is utilized browsing Facebook application, which cuts the sorry figure for all the other social networking apps available in the sea of apps.
Facebook, collectively with Twitter (1.5%) and Social Messaging apps (9.5%) risen to 28% of time spent on mobile, slightly up from 24% last year, signifying the broader move from socializing on Facebook to sharing within smaller, more personal messaging apps.
"We believe that with consumers continuing to try so many new apps, the app market is still in early stages and there remains room for innovation as well as breakthrough new applications," Flurry says.
With this can we say that the mobile browsers are dear already?
Not essentially, if we dig a little deeper into this data the conclusion changes. If we combine all the usage for apps in the utility, productivity, news & other categories we get 18% – just a bit higher than the 14% for mobile browsers. That makes it approximately a 50/50 show. Considering another data released by Google sometimes back that states 60% of apps downloaded from Google play aren't installed and 80% of those were only used once before being deleted, I'd say Web apps (over native apps) are still the way to go for companies that provide a real service to consumers or businesses.